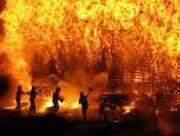 Another skill in Jagex's series of activities which teach children how to best rape the planet.
Seriously? You really don't know how to make a fire? Well neither does Jagex, who thinks you can start a fire with nothing more than a box of never-ending tinder.
All you have to do is take an inventory full of something flammable, and wait for your tinderbox to fire its magical death-ray at them, and voila! You now know how to make fires a little better!
You can light logs from Normal (I have a Normal Tree in my backyard) through oak and teak all the way up to yew and Magic trees, because who doesn't like setting fire to a little magic?
There are other methods of making fires in RuneScape, such as an actual way, namely using a fire-bow as taught by the Barbarians.
You can also learn to cremate the bodies of your enemies!
Recently, Jagex introduced a more efficient method of torturing plant life, setting fire to trees while they were still alive (and struggling). They just labeled these targets as "Evil trees", and let you just go nuts! At least you are generously rewarded for your cruelty.
And since the 10th of May 2012, players no longer have to exercise during their quest to destroy the ozone layer - they can just stand around and let a bonfire do it for them! HOORAY FOR GLOBAL WARMING!
Fire Spirits
Edit
Occasionaly, when making bonfires, you can find a glowing ball, The glowing balls thank you for freeing them from the Eternal prison of misrable suffering. The Balls give you lots of Amazing items such as...
NOTED ORES! OMFG!!!!11!1!11111!!!!!11!!!!!!
SMALL AMOUNT OF COINS! HOLY FUCK I'M RICH!
ASHES! AW YEAH, I FUCKING LOVE ASHES!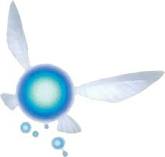 CHARMS FOR POKEMON! I NEED TO SUMMON MY PIKACHU!!!! YES!!!!!!!!!!
UNCUT GEMS! JUST WHAT I WANTED TO GET WHEN I WAS A HEAVILY ABUSED CHILD!!!!!
RUNES! BECAUSE I USE MAGIC ALL THE TIME!!!
STICKS WITH MUSHROOMS ON THEM, THEY MAKE FIRE GLOW??? OMFG SO COOOOOL!!!!
The only current rewards are those earned by completing the Beacon Network by lighting all 14 beacons at once. If you do this, you get a ring, pair of gloves, and an axe which help you make fires a tiny bit better.
The Inferno Adze has the marvelous ability to not burn your hand while it completely incinerates logs right off a tree!
Ok, I lied, there is another reward. It is: a giant gaping hole in your bank account. Also, the satisfaction that you've done your part to once and for all rid the world of the plague that is the polar ice caps.
Did I also mention Ashes?
STOP PRESS! We've just discovered a fantastic, fun and profitable way to train Firemaking! Ok, this is how you do it. First you-
Burn down your own house, Get your Insurance level up 50 firemaking levels, gratz u made 50m
Skills
Free-to-play combat skills:

Attack
•

Strength
•

Defence
•

Ranged
•

Prayer
•

Magic
•

Constitution
Free-to-play "other" skills:

Runecrafting •

Crafting •

Mining •

Smithing •

Fishing •

Cooking •

Woodcutting •

Firemaking •

Dungeoneering •

Doubling
Member's skills:
Agility •

Herblore •

Hunter •

Thieving •

Fletching •

Slayer •

Farming •

Construction •

Summoning