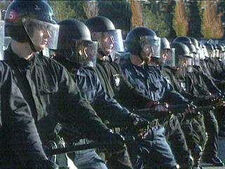 If you've really annoyed Jagex, they send these guys after you.
Possible punishments for blaspheming against Supreme Leader Gower include a one-way ticket to the Jagex Dungeon where you will never be heard from again. The Riot Squad shows up at your house in the Jagex Party Van and tells you that you have won the Big Ticket competition! Get in the van and we'll take you there! No don't tell anyone where you're going, and wipe your fingerprints off that doorknob!

NOTE: Editing this wiki is technically punishable by dispatchment of the JRS. So if you're reading this, and you hear a knock on the door- RUN FORREST RUN!